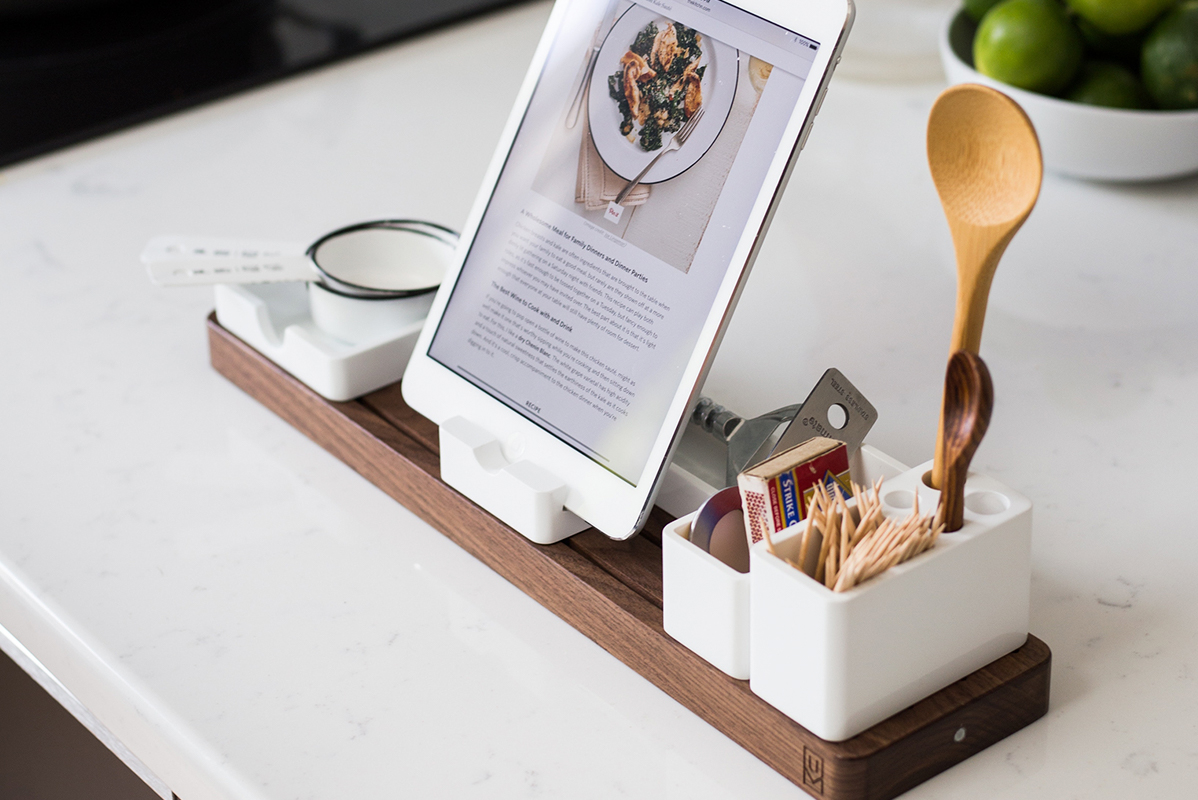 07 May

Kitchen Reno – Countertops 101
The countertop is an essential component in a kitchen design and renovation.  It is not only where all the action takes place but can be the foundation of your overall kitchen design.  Although it may be tempting to choose a counter based on looks alone, it is so important to consider the durability, maintenance and overall cost!  There are so many choices on the market so deciding which one to go with can be overwhelming.  Here is an overview of different materials to consider:
Quartz: Continues to be the popular choice in 2018! Quartz is an engineered stone, not cut directly from solid stone.  It is a very durable surface and does not chip or scratch easily.  It is non-porous so it does not need to be sealed.  Quartz is a great low maintenance option.
Granite: Is a natural material, cut directly from solid stone. Variation in the stone's pattern is common but its multifaceted appearance makes granite a great showpiece in any kitchen.  Granite is highly scratch resistant but it is a porous material, so it requires sealing in order to prevent stains (typically 1-2x per year)
Concrete: Is naturally heat resistant but it is extremely porous so it must be sealed to avoid stains. Concrete can be left in its natural grey hue or dyed to almost any colour.
Laminate: is the most budget friendly choice. It comes in a wide variety of colours and patterns and can even mimic the look of stone and wood.   Laminate is more susceptible to scratching, staining and burning compared to other surfaces.
Wood: Adds warmth and natural beauty to kitchens.  It does require regular oiling to keep it from drying out.  It is at risk of damage from knives, hot pans and standing water but most damage can be sanded out.  Also, wood is naturally anti-bacterial!
Soapstone: Highly stain and bacteria resistant.  Soapstone is a non-porous natural stone that is available in a range of gray tones, all with subtle veining.  It does not require any sealing but this stone is more prone to scratches, but regular applications of mineral oil will help disguise surface scratches.
Quartzite: Sounds a lot like quartz and can look similar. These are actually two separate materials with some key differences.  Quartzite is a metamorphic rock that originated as sandstone.   Through heating and pressure, this sandstone is converted into quartzite.  This material is often compared to granite in terms of hardness and durability.  Like granite, it will need to be sealed in order to prevent stains.
Marble: Is cut from a natural stone and is one of the more expensive options. The grey-toned veining in Carrera and Calacatta marble is aesthetically pleasing.  Marble is a timeless choice and provides any space with a high-end look.  Marble is porous so staining is a concern.  Regular sealing and special care is required.
Stainless Steel: is great for its resistance to heat and stains but you will have to deal with scratches and fingerprints.
Before finalizing your decision it is important to consider your lifestyle.  Some countertops are high maintenance and require a high level of care to keep them looking pristine which may not be well suited for everyone.  If you can't decide on one material, it is ok to mix and match.  Using a different material on an island then the rest of the countertops can help differentiate the space.
Some final tips:
Go and see the countertop surface in person, many dealers will allow customers to view the slab in person prior to ordering to ensure the grain/colouring is what the client is envisioning.  This is especially important when choosing granite and marble.
Get samples and make sure you carefully examine it next to your cabinet colour to ensure the colouring is complimentary.
Are you looking at renovating your kitchen? Are you building a new home and looking to have a custom kitchen designed and built? Get in touch with us today for a consultation. Our process begins with an in-house consult where we measure and discuss your project.  We offer full-design services, or we can work directly with your contractor, architect or interior designer to come up with a plan that best suits your needs.
-Matt